Yep, I'm at the annual no-tell mo-tell convention, meeting with all the other owners and managers and corporate wigs, and attending a great trade show!
But that isn't why I'm posting.
I'm posting because I got a story... A really cool little story that tells you all about...
The No-Tell Mo-Tell clerk tours Atlanta (well, 2 things really)!
So here goes:
Morning dawned cold as hell as I donned my schmooze uniform and strolled out to the |cewagon, to drive it for an hour (to get 6 miles) in morning traffic, to arrive at the Mass transit train station, to hop on a train, ride 30 more minutes into downtown where the convention is being held, to register, get handed a nametag and a bag, and be told there was nothing happening at all until 4pm so get lost.
....
Ok, so being the dauntless |ceman I am, I decided to sally forth into town and see what trouble I could stir up. First, I walked the 6 blocks over to the CNN headquarters and paid $13 for a nice hour-long tour. I really would've curmudgeoned out of this one, but I truly needed to kill time, and a lot of it, and walking around in areas not normally seen by the public seemed a cool way to do it. It was actually an interesting tour..but that STILL isn't the part I want to tell you about.
At the end of the tour, our guide was asking me all about Saudi Arabia (I'd pointed out the Hummer that the press had used in Desert Storm, the guy was hooked, really. I shoulda charged him $13 bucks for the war stories)....anyway, he was asking me all about it, and this guy walks up and asks about Cartoon Network. Guideboy gives him directions.
"Oh HELL NO" I thought to myself, [Adult Swim] time.
I hastily beat a retreat from the overpriced gift shop and the inquisitive tour guide, jump a cab outside and tell him "Williams Street Productions" please. My wonderfully arabic cabbie didn't know what that was. Undaunted, I try again "TBS? Cartoon Network? TNT?"
"OH!" he says, his eyes lighting up as he flicks the meter. Rut roh, I'm in for a ride now. I sat in the back and quietly prayed to the powers that be to save my wallet from too much damage.
He rolls up on Williams Street, points across a VERY busy boulevard and says "There's cartoon network and TNT, but I don't know where Williams Street Productions is." I just smile and direct him 200 yards forward, beneath this innocuous little sign that reads TURNER on it in the old logo. Yup, I found it.
Ok, no problem. I pay off the cabbie his 12.50 plus tip, jump out, and head for the door. It's locked, intercom entry, big sign on door says DO NOT ENTER, ENTRANCE ON ROOF.
"WTF?" I think to myself. I can't bloody well fly up there. I walk on down. Next door on the building, same story.
Then I get to this fenced -in area behind the building. Two people dressed in college student fashion are standing there indulging in nicotine and talking. Bingo! I approach.
"Excuse me," I say pleasantly, my monkey suit standing out amidst the grunge college look of my new acquaintances, "I'm not really sure if I'm in the correct place or not, but could you kindly tell me... Is this Williams Street Productions, where Adult Swim is produced?"
The lovely young brunette answered in the affirmative, and consented to take time out of her busy day to give me a tour of the place, if I'd just go push the intercom button on the first door I came to and ask for her by name.
Guys, IT RULES in there! It's everything you picture an ultra-laid-back college aged employee cartoon production studio to be. They even have a Jackalope gracing the wall, as well as the grass wall from the comic-con they introduced Metalocalypse to the world on. Family Guy pinball, video games and lockers, the works.
Best of all, I met the guys who do the bumps, the writer for ATHF, and the character creator for Metalocalypse (which is one of my favorites). I even met the girl who does Robot Chicken!
My lovely young guide informed me that they very rarely had anyone visit their little corner of the world, and thanked me for coming. I told her the pleasure was all mine and that I'd been an Adult Swim fan from day one - you shoulda seen her beaming smile after that one
Best of all came the loot - Pics below of the 2 wonderful items I got, pardon the lighting on the first, this hotel room is quite dim.
And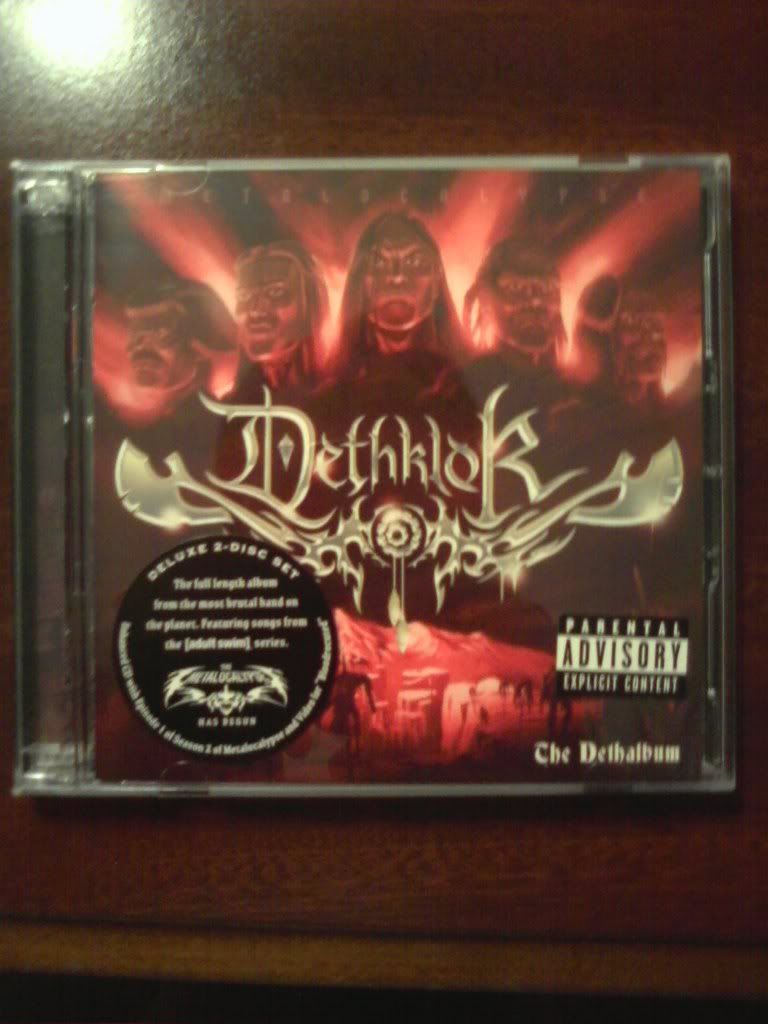 I'm wearing this hoodie right now that, in my humble opinion, I drove 10 hours to get. The rest of this trip is fluff - other than that cute bartender who's working tomorrow night in the Hotel bar...
Suffice it to say though that the [adult swim] tour beat the living hell out of CNN, or anything else in Atlanta. Do me a favor, watch the bumps tonight - I might be in 'em, the guys asked who I was...it'll be under my realname, not |ce.
Peace!
|ce